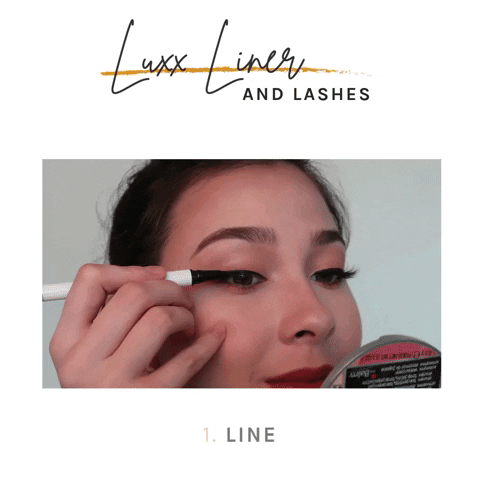 Easily achieve that fresh, everyday look with the perfect lash beginner duo! Whether you're a beginner or a pro, the Luxx Clear Liner gives you that easy and foolproof application to completing your minimalist and effortless look. Simply create your look in two steps: apply the liner close to your lash line and press your lashes on top of it—it's that easy! Fresh. Free. Foolproof.
The most natural style out of the Luxx Liner Lashes - Luna is light and wispy, giving you that lifting, eye-opening effect. With the Luxx Liner and Lashes, accentuate your eyes everyday—fuss-free, no glue needed, from the comfort of home.
HOW IT WORKS: 
The Luxx Liner is formulated with a pressure-sensitive adhesive that, with soft to medium pressure, allows the liner lashes to bond with the liner without the use of glue. For best results, the liner may be used up to 6 months after opening.
Simply create your look in two steps: apply liner close to your lash line and press your lashes on top of it—it's that easy! Line and lash. Fuller lashes in an instant.
PERFECT FOR:
Round, monolid, and upturned eye shapes.

Everyday wear, look, and feel—whether you're running errands or having a small get-together! Easily pair this with your minimal makeup look, bringing out your natural lashes—light, simple, no fuss. 
WHAT TO LOVE:
Cruelty-free, chemical-free lashes

Formulated with non-toxic, vegan, and cruelty-free ingredients—safe for your eyes and your skin

Clear, transparent liner that works as an adhesive for your lashes—safer than lash glue

High-quality faux mink lashes, sourced from Korea

Fast and easy application, with no drying time

Wear up to 8 hours

Reuse the lashes up to 30 times or more
HOW TO USE:
For best results, ensure your skin is clean, oil-free, and primed before application. Shake the Luxx Liner well before use and apply 2-3 swipes above your lash line. Let the liner dry for a few seconds. With soft to medium pressure, gently press the liner lashes on top of the liner to let them stick.
SPECIFICATIONS: 
5 to 9mm in length and 30mm in width

Made with a cotton band, with faux mink lashes handcrafted carefully strand by strand
INGREDIENTS:
Styrene/Acrylates Copolymer, Aqua, Polysorbate 80
WHAT'S IN THE PACKAGE: 
Luxx Liner Lashes in a sliding box with style label


Luxx Liner in Clear
Customer Reviews
06/12/2021
Angela L.

Philippines
Very dramatic look!
The look is very dramatic and flattering! However, I struggle with keeping the corners stuck to my eyelids but maybe that's more of a problem with my application rather than the product.