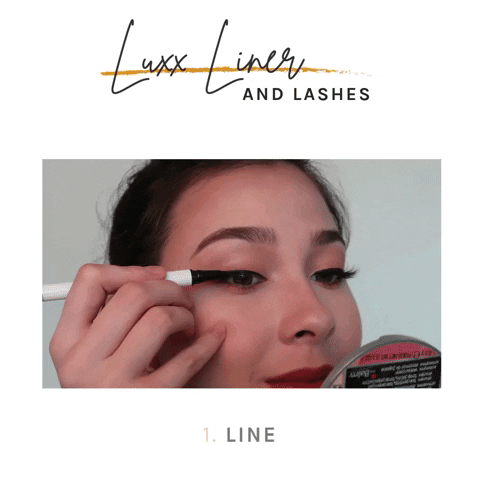 Stand out with the fullest lashes for the fullest expression. With the Ziva, get that defining length with enhanced volume. This pair intensifies your eyes, adding both drama and volume with its varied strand lengths. With the Luxx Liner and Lashes, accentuate your eyes everyday—fuss-free, no glue needed, from the comfort of home.
PERFECT FOR:
Almond, hooded, monolid, and deep-set eyes

A fuller makeup look, whether for everyday or special events such as Zoom parties, holidays, or photoshoots!
WHAT TO LOVE:
Cruelty-free, chemical-free lashes

Non-toxic, vegan, and cruelty-free liner—safer than lash glue!

High-quality faux mink lashes, sourced from Korea

1-2 minute application, with 1-2 second drying time

Wear up to 8 hours

Reuse the lashes up to 30 times or more
 SPECIFICATIONS: 
13mm in length and 30mm in width

Made with a cotton band, with faux mink lashes handcrafted carefully strand by strand
INGREDIENTS:
Styrene/Acrylates Copolymer, Aqua, D&C Black, Polysorbate 80
WHAT'S IN THE PACKAGE: 
Luxx sliding box with style label
HOW-TO:
Apply:

 

For best results, ensure your skin is clean, oil-free, and primed before application. Shake the Luxx Liner well before use and apply 2-3 swipes above your lash line. Let the liner dry for a few seconds. With soft to medium pressure, gently press the liner lashes on top of the liner to let them stick.


Remove:

 

Gently peel off the lashes and store them back in their case. Apply cleansing oil or micellar water on a cotton pad. Place the pad on your eyes, press lightly for a few seconds, then gently wipe the liner away. 


Clean:

 

Place one set of your lashes on a cotton pad. Squeeze a fair amount of the Luxx Lash Cleanser on one tip of a cotton bud. Gently stroke the lashes (only) outwards until dirt and mascara debris are removed. Wet the other end of the cotton bud with water and gently clean your lashes to remove the cleanser residue. Leave your lashes to dry on the cotton pad while you do the same for the other set. 

To clean the liner, d

ip the tip in warm water then shake the liner downwards. Wipe with a clean tissue, close the cap, then shake well.


Store:

 

Keep your lashes safe and at tip top shape by returning them to their case, following a curved shape. The liner must be stored upright, in a cool area, away from direct sunlight.