Fluttery, sultry, and lightweight. 
Say goodbye to lash glues and falsies and say hello to your new best friend, Luxx Magnetic Lashes. They come in various styles so you'll surely find the perfect pair for you! Handcrafted with faux mink, these magnetic lashes will amplify your everyday look. With its magnets, lash application has never been this easy. You too can look this good in just a snap with Luxx Magnetic Lashes. 
But you may be wondering, how do you apply magnetic lashes? It may seem daunting at first, but with these tips and lots of practice, you can totally apply your magnetic lashes in a snap! 
Attach the outer corner. 
Align the top lash above your natural eyelashes as close to your lash line, and use the bottom lash to "lock" it in place. 

For shorter lashes, you can actually try aligning the bottom lash first and then using the top lash to "lock" it. Through this, you can actually see and gauge better where to place your lashes. 
LUXX TEAM TIP: Use the lash lock for easier application, especially if you have long nails! We definitely recommend using this tool to make the magnetic lashes application much easier!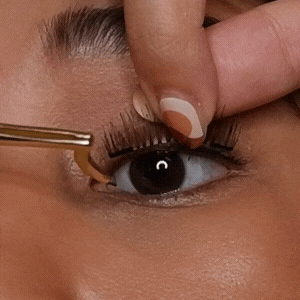 Attach the inner corner
Doing the same as the outer corner, make sure that you are placing it as close to your lash line as you can! 
Practice. Practice. Practice! 
While there is a learning curve with using these lashes, it definitely is worth having this skill. You can now ditch hard to maintain lash extensions, uncomfortable lash glue and falsies, and really invest in durable and reusable lashes. You can use your magnetic lashes up to 7 months or even a year depending on how you use it and take care of it. 
LUXX TEAM TIP: To help you practice, we also have lots of magnetic lashes application videos that you can watch over on Instagram and Tiktok.


After getting the hang of how to apply magnetic lashes, you can definitely have fluttery, sultry, and lightweight lashes in a snap!