Beyond Beauty Eco Lashes (Magnetic)
Regular price

₱1,359.00 PHP

Regular price

₱1,699.00 PHP

Sale price

₱1,359.00 PHP

Unit price

per
Pay in 2 to 24 months installments with
DESCRIPTION

WHAT TO LOVE ABOUT LUXX MAGNETIC LASHES

WHAT TO LOVE ABOUT BEYOND BEAUTY ECO-PACKAGING

HOW-TO

HOW TO COMPOST

TRY MAGNETIC LASHES

RETURN AND EXCHANGE POLICY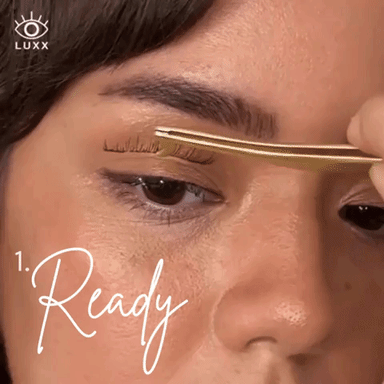 EASY. ESSENTIAL. ECO. Meet your signature Luxx magnetic lash pair, but in an eco-friendly version! 
By lessening landfill waste through this compostable and recyclable lash case, you:
Keep oceans and soils free from pollution, and

Minimize greenhouse gas emissions
Reuse your current lash case or use our eco-packaging all the way! Every Luxx purchase helps you create a healthier and safer planet. Who says your love for beauty can't create an impact? Here's Luxx's Accountability Check!
Need help in choosing the right pair for you? Take our quiz or head over here to learn more about our different styles.
WHAT TO LOVE ABOUT LUXX MAGNETIC LASHES
Reusable

for 60x or more (7 months if worn occasionally, 3 months if worn everyday) - lessens micro-waste in landfills, water bodies, and other areas affected by plastic pollution. 
Vegan & cruelty-free

- Creates healthier ecosystems
Chemical-free

–

Ensures that water, soil, and air remain clean
Made from faux mink

sourced from Korea, handcrafted carefully strand by strand
Wearable

for up to 12 hours
Sweatproof, water-resistant, and wind-resistant
WHAT TO LOVE ABOUT BEYOND BEAUTY ECO-PACKAGING
Sugarcane lash tray. Juices are extracted from sugarcane stalk while the fibers often get discarded. Transforming this into durable packaging gives it new life and eliminates carbon emissions, all while supporting farmers that grow them! 

Kraft sleeve, mailer, and car. Raw kraft paper is often produced from wood pulp with no color dyes, making it less toxic in production and can be disposed of responsibly.

Recyclable and compostable.

Purchase the eco-packaging to refill your original Luxx case, or use as is.
Apply: Place the top lash above your natural lashes, holding it in place and as close to your lash line. With your other hand, hold the bottom lash under your natural lashes and align it to the top lash magnet. Allow the two magnets to click. Do the same with the other bottom lash.

LASH HACK: Get your own Luxx Lash Lock for easier and fuss-free application. With its sturdy build and unique shape, our non-slip and fully-magnetic Lash Lock helps you pop on your lashes in no time.

*The Luxx Lash Lock is sold separately.
Remove: Just like how you would add a pinch of salt, with your fingers, gently slide off the magnets to the side or forward.

Store: Keep your lashes safe and at tip top shape by returning them to their magnetic case, following a curved shape.
For Lashes
In partnership with the Plastic Flamingo or the PLAF, you can donate your Luxx lashes to your nearest hub!
How to Donate Your Lashes:
Find the Plaf hub nearest you. (Check their hubs here.)
Place your pair of lashes in a plastic bottle or case.
Donate with the rest of your plastics to your selected PLAF drop-off point.
For a complete list of Luxx items Plaf accepts, find them here! Visit their website to learn more about The PLAF.

For Our Eco Packaging
Here's how to compost the packaging:
Separate the sleeve, sticker, and magnets from the sugarcane case
Chop up your compostable waste into small pieces and layer it in a bin 

Start with your browns: dried leaves, and the lash packaging
Then, add your kitchen waste, or "greens": veggie scraps and egg shells. Remember that dairy, meat, and oils are not compostable.
Fill the bin by alternating between browns and greens

Mix your compost pile, lightly water, and cover with a lid. 
It takes 6 weeks to turn into compost that you can add to your plants' soil! 
To speed up the process, you can:

Place your bin in the sun
Ensure your bin has airflow (drill holes in the bottom and sides or use a laundry basket)
Mix your compost pile throughout the week. 
Don't have a compost bin? Don't worry!
Separate the sleeve and sanitation sticker from the sugarcane tray and place them in clean, dry containers. 
Send these over to your nearest recycling center!
CLICK TO TRY LUXX MAGNETIC LASHES

Try your favorite Luxx style through our virtual try-on.
Looking for more assistance? Get #Lashalyzed through a one-on-one lash consultation with our team! To get started, connect with us on Instagram by sending us a message: #LashalyzeMe.

RETURN AND EXCHANGE POLICY
Our return and exchange policy lasts for seven (7) days from the delivery of your order. If seven (7) days have gone by, we can no longer offer you a refund or exchange.

Please take a complete and clear unboxing video of your parcel. Returns and exchanges shall not be processed without submission of this video.
Share
Customer Reviews
07/27/2022
The BEST!
Once you get used to putting them on, it becomes so easy. It really makes a difference and levels up your whole look with minimal effort!
07/04/2022
Very happy with the paige magnetic lashes. it is truly my favorite!
Delivered after 2 days! I love this product because it's lightweight and it perfectly snaps in place. it doesnt get removed even after a whole day of use. And i can use it regularly and it doesn't deteriorate for several years (my last pair was with me for 2 years).
Sam V.

Philippines
11/29/2021
Love it!
I have tried so many magnetic lashes before but this is the best by far! Ordered 2 more for Christmas! For my lola and my sister in law!
Cattia C.

Philippines
11/18/2021
Love it!
It's my first time to use magnetic eyelashes so really amazed at how it works!
Tolentino I.

Philippines
08/20/2021
Lovely and dramatic
Super love the effect this has. Insta drama for the eyes even without makeup! Can't wait to use this when I go out!
Felicia B.

Philippines